#BPRD
We are pleased to release Beebe School District's Ready for Learning Plan with detailed information concerning reopening schools on August 24th. Please visit the district's website for the Ready for Learning information. The presentation and videos for the district can all be found at this location.
https://bit.ly/ReadyforLearning
If you have addition questions, please fill out the following form:
https://bit.ly/BPSQuestions
Questions will be answered by district personnel on Thursday, July 23rd via a recorded video. #BPRD
The medical personnel responsible for providing our athletic physicals have asked us to postpone them until after August 1st. We are working with them to set up new dates/times that coincide with their request. We are very sorry for any inconvenience. #BPRD

The Beebe School District received a notification of a confirmed positive case of COVID-19 concerning one of our student athletes. Parents whose child was in close contact with the student, have been notified. For the privacy of our students and staff, Beebe School District will not share personal information. All facilities and equipment are in the process of being sanitized per CDC guidelines.

Congratulations to the 2020 Beebe High School Badger Yearbook Staff! The Yearbook received a 1st Class Rating with two marks of distinction in the areas of Design and Photography by the NSPA. Through education, training, and recognition programs for members, the NSPA promotes the standards and ethics of good journalism as accepted and practiced by print, broadcast, and digital media in the United States. We are so proud of the 2020 BHS Yearbook Staff! #BPRD


Badger families, we are excited to announce Returning Student Registration for the 2020-2021 school year. This process replaces the paper forms previously sent home with students. You will receive an email from PowerSchool with your child's information and snap code link to register online. Additional information will be included in the email from PowerSchool. Thank you and have a great evening. #BPRD
Thank you to the parents who were able to join us virtually for our parent meeting to discuss reopening school next year. The district will hold a town hall meeting in the next few weeks in order to engage with parents and community members. #BPRD

Please see the following important Badger Announcement: #BPRD
Reminder: Parent meetings for virtual options are tonight! #BPRD

The meeting for families seeking additional information or enrolling in the virtual option is scheduled for July 7th in the Beebe Schools Auditorium. Meetings are scheduled for 5:30-6:00 for K-6, and 7:00-7:30 for 7-12. #BPRD

#BPRD

Attention BHS 2020 Graduating Seniors:

The Beebe School District bus drivers will attend in-service training on July 27th. Please see the attached image for details. #BPRD
Little Badger Pre-K still has ABC spots available! Access the application at bit.ly/abcapplication20. Scan/email your application to
nancy.bass@badger.k12.ar.us
or mail it to Attn: Nancy Bass, 1201 W Center, Beebe AR 72012. Get signed up today! #BPRD
If you are interested in being a substitute for Beebe School District during the 2020-21 school year, see the attached image for details! #BPRD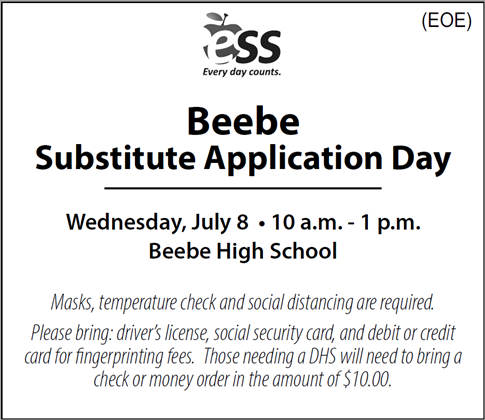 BHS Class of 2020: Follow this link to RSVP to Graduation for July 11 at the Beebe Schools Auditorium -bit.ly/beebegradrsvp Each student receives a maximum of 8 tickets. Seating will be assigned in the order RSVPs are received. #BPRD
Unfortunately, due to current public health restrictions, Camp Beebe and the summer feeding program have been cancelled this summer. We apologize for the inconvenience and share in your disappointment. Thank you for your understanding. #BPRD