🗓️ Save the Date: Tuesday, January 30, 2024! 📚👩‍🏫 Join us at the Beebe School District Job Fair and explore exciting career opportunities within our district. 🌟 All potential employees are invited to discover what makes our educational community exceptional. 🎓💼 Mark your calendars and get ready to take the next step in your career journey! #BPRD
🌟 Ellie Stricklin, 8th Grade, is a true Badger Who Shines! From HOSA competitions to serving as Junior High HOSA President, she is proving to be a remarkable student leader. Keep shining, Ellie! 👏 #BPRD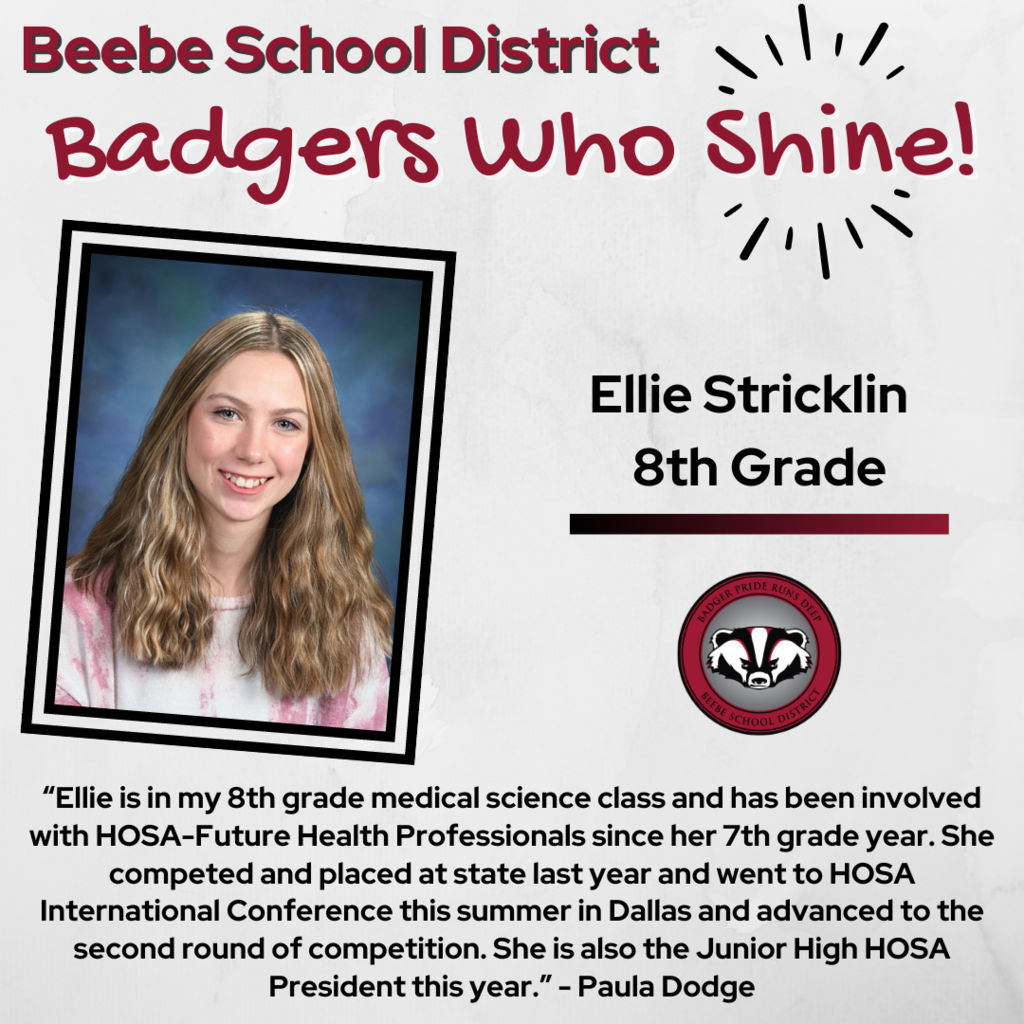 Beebe School District was represented at the 20th Anniversary celebration of the merger between Foothills Technical Institute and ASU-Beebe! The merger has allowed for student growth and progress to the institution. We are always proud to honor our partnership with ASU-Beebe! #BPRD
🕵️‍♂️🔍 Mr. Dane Grant's Foundations of Law students have been honing their skills in applying prints, while his Criminal Justice students are becoming experts in identifying fingerprint types. 📃👀 Hands-on learning in action! 💼🌟 #BPRD
🏈 👚 This Friday, 9/29, it's Pink Out Night at the Badger Football game as we take on Pine Bluff! Let's show our support for breast cancer awareness by wearing pink and cheering on our Badgers! 📣 #BPRD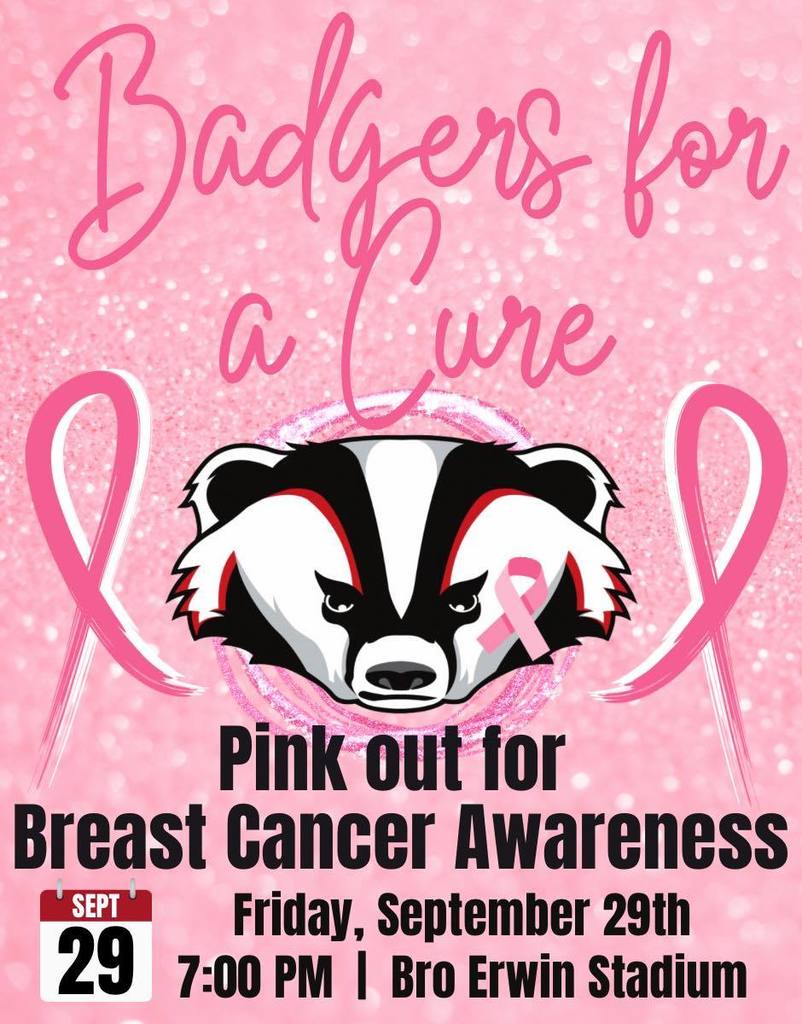 🛠️🎨 Mrs. Difani's elective class has been unleashing their creativity and building with a wide array of materials! #BPRD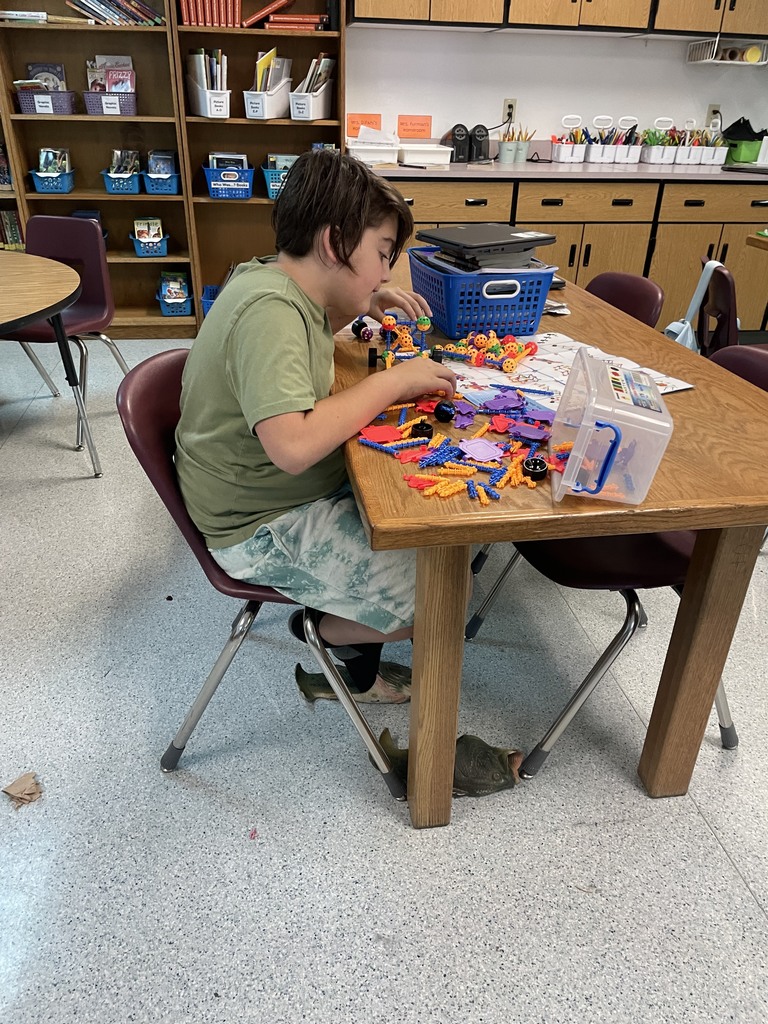 Our K-6 Homecoming Dress Up days will be slightly different than Grades 7-12. View the attached flyer for K-6 dress up themes! #BPRD
🌟 This month, we are excited to introduce these educators and staff who are ready to make a positive impact on our students' lives. Let's give them a big Badger family welcome! 🐾 🎉 #BPRD
Our phone lines are now restored! You may reach our offices at 501-882-5463.
Good morning Badgers and welcome to the final week of September! Visit
https://bit.ly/3EN6rAt
to see what's on the schedule this week. #BPRD
A revision has been made to the 2023-24 school calendar to move the Friday, April 19, 2024 school holiday to Monday, April 8, 2024. There will be no school for students or staff on Monday, April 8, 2024. Friday, April 19, 2024, will be a regular school day. An updated school calendar can be found at
https://bit.ly/3RwBd8b
. Having no school on the day of the eclipse will help avoid potential traffic and other issues due to the influx of visitors expected in our area. It will also allow students to experience this rare event with their families. Visit
https://www.beebechamberofcommerce.com/2024solareclipse
to learn more about the solar eclipse events taking place in Beebe on April 8, 2024. #BPRD
🌟 Badger Who Shines 🌟 Rynn Merkel's Kindergarten journey began with some nerves, but she fearlessly pushed through to become a radiant light in her school. Way to go Rynn! We are proud of you! #BPRD
Students in Mrs. Dodge's concurrent Medical Terminology class are diving deep into their studies of the urinary system using the incredible Anatomage table! #BPRD
Our first Grandparents Raising Grandchildren support group meeting was a great success! ❤️✨ This group is set to meet every Wednesday at the Family Center from 12:00-1:00 p.m., offering support, resources, and shared wisdom! #BPRD
🇺🇸 Coach Goodin's class completed a Constitution escape room this week to celebrate Constitution Day! They decoded information about the Constitution and founding fathers! 🇺🇸 ⁇ Did you know ⁇ Constitution Day is September 17th. The Constitution is stored in Washington D.C. Latin is the only other language in the Constitution. 2 of the signers went on to become President. James Madison is the "Father of the Constitution."
🧪 Ms. Davis' classes turned into scientists as they unlocked the secrets of testing for acids! Bubbling beakers, colorful reactions, and lots of "Aha!" moments - science is exciting! 💥👩‍🔬 #BPRD
Here is our review of the September Board of Education Meeting, also available at
https://bit.ly/46fW0B2
. #BPRD
Our outside phone lines are currently down. We apologize for the inconvenience! Please reach out via email or stop by our offices in person. We will share an update as soon as phone lines are restored. Thank you for your understanding.
🌟 Badger Who Shines 🌟 Rynn Merkel's Kindergarten journey began with some nerves, but she fearlessly pushed through to become a radiant light in her school. Way to go Rynn! We are proud of you! #BPRD
🎨📚 This year, Ms. Lisa Smith is teaching a sculpture class, with lots of new lessons and objectives! Their first assignment was to look at non-objective sculptures, give them a title and explain their reasonings. They then had to create their own non-objective sculptures using only craft sticks and cardboard! Check out all of the talented creativity from our Jr. High Art students! 🖌️📦 #BPRD