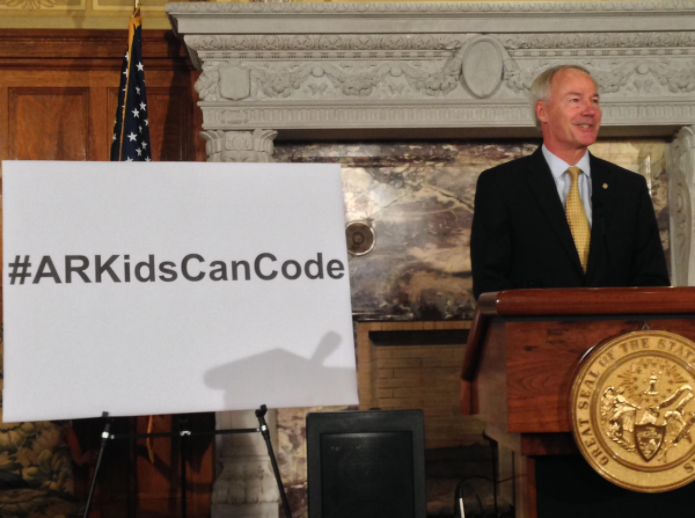 Gov Hutchinson will visit BHS August 24th
Holly Glover
Monday, August 21, 2017
Governor Asa Hutchinson announced his fifth computer coding tour of Arkansas high schools since taking office in 2015. The tour will kick off August 22 and run through the end of the month. The focus of the tour is to promote computer science and encourage students to enroll in courses this fall. Schools, dates and times are listed below.
Gov. Hutchinson issued the following statement:
"I am kicking off my fifth computer science tour this week, and the difference between what was happening in the state on the first tour two years ago and now is tremendous. "Thanks to the amazing response from educators, students and the business community, Arkansas continues to lead the nation in computer-science education. National publications are writing stories about us. Companies are considering Arkansas because they see the strong workforce we are creating. Computer coding classes have become so popular that some schools have a waiting list of students. Teachers have access to training and resources that they did not have before we started our Computer Coding Initiative.
"Arkansas is truly becoming a tech hub, and I can't wait to hit the road and meet even more of our talented students to spread the word about coding and their future in Arkansas' economy."
Tuesday, August 22
Harrison High School 9:30 a.m. 925 Goblin Dr. Harrison, AR
Alpena High School 11:00 a.m. 300 S. Denver St. Alpena, AR
Green Forest High School 1:30 p.m. 800 Tommy Ratzlaff Ave. Green Forest, AR
Thursday, August 24
Beebe High School 9:30 a.m. 1201 W. Center St. Beebe, AR
Forrest City High School 1:15 p.m. 467 Victoria Ave. Forrest City, AR
Monday, August 28
Lakeside High School 1:00 p.m. 2871 Malvern Ave. Hot Springs, AR
Hot Springs High School 2:15 p.m. 701 Emory St. Hot Springs National Park, AR