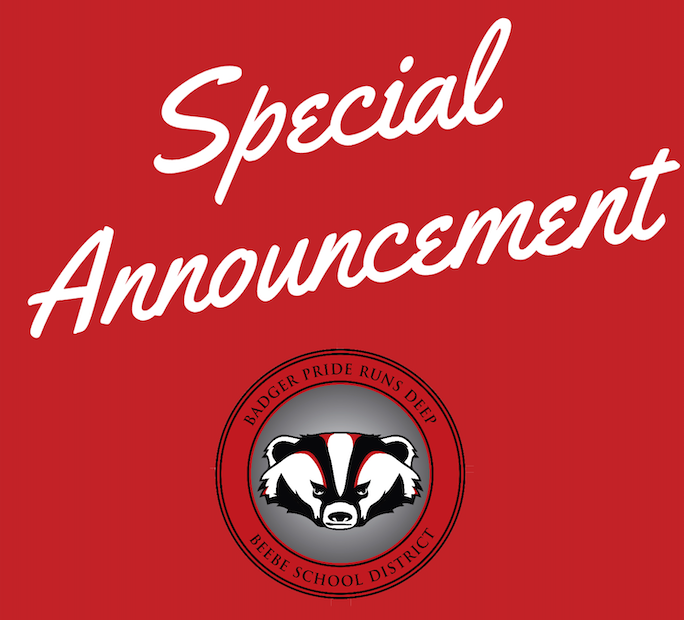 Coronavirus Action
Jessica Prothro
Wednesday, March 11, 2020
3/30/20 4:15 pm Update:
Please view this document for our detailed Extended School Closure Plan. This plan, along with a list of community wireless access points, a technology assistance request form, and a weekly check in form are available under Quick Links on our home page.
View the video below for an update from Dr. Nail on our procedures moving forward:
---
3/20/20 1:13 pm Update:
Due to the current public health situation, Beebe School District will not hold in person instruction through April 17. As of now, in person classes are scheduled to resume on April 20.
The current next step is that AMI Days 8-10 will be completed on March 30 - April 1. On March 30, the district will share a detailed plan for continuing educational services through April 17. Digital avenues will be utilized; however, paper copies will still be provided for those who need it.
If you have not already, please fill out the At Home Internet Access Survey, found at http://bit.ly/399zWu5. The form can also be found on our website, www.beebebadgers.org, under Quick Links. The form needs to be completed by this Sunday, March 22.
Meals will continue to be provided throughout the school closure. Details of meal delivery will be shared after Spring Break.
While this is a trying time, we will continue to work through it and do what is best for our students. And remember, next week is Spring Break, so please try not to worry and enjoy this time together!
View the below video for an update from Dr. Nail regarding the situation surrounding the coronavirus.
---
3/15/20, 3:00 pm Update:
Beebe Schools will be closed from March 16 to 20. We will use AMI Days 3-7 during this time. All AMI work can be found on the district website (www.beebebadgers.org) under "Quick Links." Breakfast and lunch will be available FREE of charge to any student who wants or needs meals.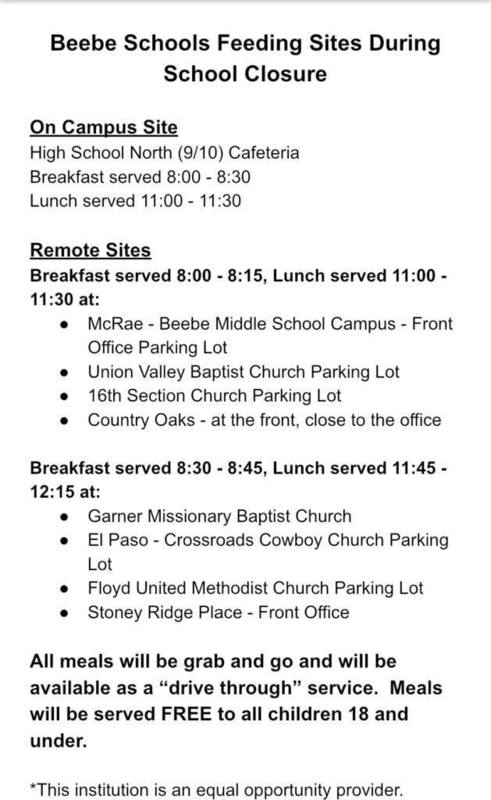 ---
3/13/20, 2:35 pm Update:
From Superintendent Dr. Chris Nail:
The governor has announced that based on the CDC's recommendation, schools outside of the 4 county affected area (Saline, Jefferson, Pulaski, Grant) will remain open at this time. Therefore, school will be in session next week (March 16-20) as of now. We will keep you up to date on any changes.
As a district, we still have detailed plans in place in case of closure. AMI work has been distributed and is posted on the district website (www.beebebadgers.org) under "Quick Links." Also, breakfast and lunch would be made available to all students free of charge at multiple sites throughout our community should school closure occur.
In relation to athletic and extracurricular events, precautionary measures are being taken state and nationwide to slow the spread of the Coronavirus. In accordance with direction from the Arkansas Activities Association (AAA), the following guidelines will be in place for the time being:
All extracurricular and athletic events are cancelled until March 30.

While school is in session, groups and teams may practice and/or participate in team-only events on campus. Spectators will not be permitted.

If school closure were to occur, no group or team would be allowed on campus for any reason. This includes practices.

If school closure were to occur, no on-campus activities would be permitted. This includes the use of facilities for non-school sponsored events.
Please remember that this is a fluid situation, but the great thing about the Beebe Schools community is that I know we will all continue to work together to navigate this situation to the best of our ability.
If you have questions, you can contact me at chris.nail@badger.k12.ar.us or 501-882-5463. We very much appreciate the community's ongoing support of our students and staff during this challenging time.
---
3/12/20, 2:34 pm Update:
Governor Hutchinson held a press conference this afternoon updating on the Coronavirus situation. The state of Arkansas has 6 presumptive positive cases of the virus. As of now, schools in 4 Central Arkansas counties (Saline, Jefferson, Pulaski, Grant) have been directed to close due to new presumptive positive cases and direct contact by others with those who have tested positive. At this time, we do not have the local power to close school without the state's permission. We are staying in contact with the state about our situation and next steps. We will update you with any changes.

---
*3/12/20 Update (Based on information from the ADE and CDC):
School -
School and school activities will continue at this time, and the Arkansas Department of Education (ADE), in consultation with the Arkansas Department of Health, shall provide guidance to local school districts and institutions of higher education to address concerns related to the virus and take all actions necessary to ensure the continuation of education. The Secretary of Health, in consultation with the Secretary of Education, shall have sole authority to close public school campuses throughout the state for reasons related to COVID-19. The situation will be monitored closely.
*Due to the fluidity of the situation, all AMI work for Beebe Schools students will be distributed to students and posted online by Friday, March 13.
*Parents: If you would want or need school lunch and/or breakfast provided to your child/children in the event of school closure, please fill out and submit this form by this Friday, March 13. A paper copy is also being sent home with students in Grades K-6, and the form will be linked on the school website home page under "Quick Links."
Travel -
All citizens are asked to review and rethink travel plans to consider whether plans will put themselves or others at higher risk of transmission. School districts will evaluate school-sponsored travel plans and ask school district employees to consider risks associated with their personal travel plans, including Spring Break.
Things to consider before traveling within the U.S.
Coronavirus U.S. Cases Summary
Resource -
The University of Arkansas for Medical Sciences (UAMS) has announced a new screening tool that will ask patients a series of questions about their symptoms, age, overall health, travel and other potential exposure to the COVID-19 virus and guide them regarding next steps, if any. This may include a video session with a UAMS HealthNow provider, advice to contact their local physician for further evaluation and possible testing for the virus.
People who have symptoms and who have been exposed to COVID-19 are urged not to visit a physician office, urgent care clinic, emergency room or hospital without first talking to the facility and getting instructions on how to prevent spreading the virus to healthcare providers and other patients.
This service will be available 24 hours a day, 7 days a week to patients of all ages across the state of Arkansas and can be accessed from a smartphone, tablet, laptop, or computer. https://uamshealth.com/healthnow/.
---
3/11/20-
Beebe School District is closely monitoring the Coronavirus disease of 2019 (COVID-19) and are working in coordination with the Arkansas Department of Health (ADH) and Division of Elementary and Secondary Education (DESE) to monitor the situation in Arkansas. The most up to date information regarding the status of COVID-19 in Arkansas can be found at https://www.healthy.arkansas.gov/programs-services/topics/novel-coronavirus. We currently have a plan in place to do all we can to prevent the spread of this virus within our district and community.
At this time, Beebe School District is not at risk. However, we continue to take precautions to prevent the spread of the Coronavirus, and other viruses including the flu and common cold, which include:
Routinely cleaning and disinfecting the school. Maintenance and classroom staff use antibacterial products on all high-touch surfaces daily. SSC (our custodial service) routinely cleans all high volume areas with the Clorox Total 360 electrostatic spray system, which kills 99.9% of bacteria.

Ensuring that bathrooms are adequately furnished with antibacterial soap.

Sharing effective handwashing strategies, which include washing with soap and water for at least 20 seconds.

Students and staff who become sick at school or arrive at school sick will be sent home as soon as possible. Sick students and staff will be kept separate from well students and staff until they can leave.

The sharing of food is strongly discouraged.
We encourage students, families, and staff to take these extra precautions to avoid the spread of sickness:
Parents should keep children home who exhibit cold and flu-like symptoms.

Staff should refrain from coming to work if they have cold and flu-like symptoms.

Frequently wash hands with antibacterial soap and water.

Avoid touching eyes, nose, and mouth with unwashed hands.

Cover mouth when coughing or sneezing.
Student and staff wellness is a top priority at Beebe School District, and we truly appreciate your help to keep our students and staff healthy.
Please note: As a precaution only, Beebe School District will be taking steps to prepare for possible school closure. The Arkansas Department of Elementary and Secondary Education (DESE) has increased schools' allowable AMI days for the 2019-20 school year to 10. Since we have already used 2 AMI days, we have 8 AMI days left to use in the event of school closure. Therefore, students will be given AMI work for the additional days prior to Spring Break. Again, this is only a precaution, and students will not be expected to complete this work unless school closure becomes necessary. All AMI work will also be posted online, and the school district will communicate with parents via phone, school website, and social media regarding the use of any AMI days.