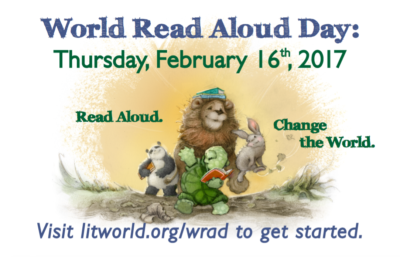 World Read Aloud Day
Cindy Powell
Thursday, February 16, 2017
On Thursday, February 16, 2017, something special is happening at Beebe Early Childhood. Something that has the potential to make a real difference in a child's life. That something is World Read Aloud Day.
What is World Read Aloud Day?
World Read Aloud Day (WRAD), sponsored by LitWorld, is a day that is dedicated to reading and sharing stories with children. It is celebrated by millions of people around the world. Anyone can participate.
According to Common Sense Media, "Kids are spending more time with screen media-and at younger ages-than ever before. By making a celebration of reading aloud, kids may discover books they connect with, adn perhaps, make a choice to read rather than pick up the iPad or the Xbox.
I am encouraging you to participate in WRAD also. Please take a few minutes on Thursday evening to share a book with your child. Please send the form that was sent home with your child back to school on Friday. Each child that returns a completed and signed form will receive a small prize from the library for participating.
Thank-you in advance for taking part in World Read Aloud Day!
Nona Richey
Beebe Early Childhood
Library Media Specialist